Potential Causes of Allergies in Kids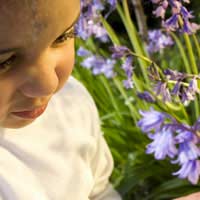 Childhood is a time of discovery and of trying lots of new things. As little ones grow into schoolchildren and teenagers parents can only look on and hope that the world is kind to their kids. But for some parents, there are even more things to be worried about. That's because their child has an allergy, or maybe several allergies, and daily life becomes much more challenging.
What is an Allergy?
When a child is has an allergy to a particular substance, such as pollen or dairy products, that substance, known as an allergen, triggers the immune system into releasing antibodies called immunoglobulin E. These in turn trigger the release of histamines, and it's these that cause all the unpleasant symptoms.
Which Substances might cause an Allergic Reaction in Children?
Any food can cause an allergic reaction, though some seem to cause more problems than others. Some children experience food allergies. Nuts, milk, eggs, fish, tomatoes and citrus fruits are likely trigger substances. For other children, insect bites and stings can set off nasty reactions. Hay fever is a well-known allergy to pollen that hits school-age children particularly hard and can be a nightmare around examination time in high summer.
Other common allergens are synthetic substances and chemicals, animals and dust. In fact, if your child is allergic to your cat or dog, it's actually their sweat and saliva that are causing the problem, not their fur. And if your child is allergic to house dust, it's equally as unpleasant to consider that it's really the droppings of the humble dust mite that is setting of their allergic symptoms.
Symptoms of Allergies?
The symptoms of allergic reaction can look a lot like childhood illnesses, so you'll need to be observant about when and where symptoms occur. Sickness and diarrhoea, runny noses, rashes and sneezing could all indicate an allergy, but they could also be signs of a hundred other things. To find out if your child really has an allergy, you'll have to see your doctor.
Tracking down the Trigger
If you believe that you're seeing signs of allergy in your child, it's a good idea to keep a diary. Just note down when allergic reactions occur, what your child has eaten that day, where they've been playing, what they wore and what the pollen count was like. The trigger allergen might not be the most obvious suspect. For example, if your child always experiences symptoms after eating strawberries at grandma's house, it might be grandma's dusty shelves or regularly mown lawn that are at the root of the problem, not the fruity treat! So be diligent and write it all down, then start to look for patterns. You can always ask your GP for advice. Of course, if your child's symptoms are in any way severe, or if they are getting worse, you should seek medical advice promptly.
There are probably as many causes of childhood allergies as there are children in the world. But resist the temptation to think that allergies are everywhere and that every child is sure to be allergic to something. It's simply not the case. Keep an eye on your kids and look for any patterns of sneezing, wheezing and feeling sick, then get professional, medical advice if you think your child might have an allergy.
You might also like...