Signs and Symptoms of Allergies in Children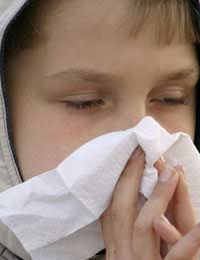 Your child has a dramatic sneezing attack just as they're polishing off a cheese sandwich. At that moment the cat wanders through and you look out of the window to see your other half mowing the lawn. Was the sneeze a dairy allergy a cat allergy, or hayfever? Or has your child just got a bit of a cold? The symptoms of allergies can be very hard to pin down.
Childhood Allergies Symptoms
The symptoms of food allergies can look a lot like common childhood illnesses – the kind of thing kids get all the time. Sickness and diarrhoea, runny noses, rashes and fits of sneezing could all indicate a food allergy, but they could also be a tummy bug, a cold or any number of different things. More unusual symptoms of allergies are itchy skin and an itchy tongue, but to find out if your child really has an allergy, you'll have to talk to your doctor.
Allergies To Food
Feeding your child is one of the main responsibilities of parenthood. We all want to put healthy, nutritious food on the table for our kids, to make sure they grow up healthy and strong. So it can be worrying to discover that your child is allergic to food, particularly when some of the most common and popular foods can be culprits.
But many parents worry unnecessarily. Not every illness or problem is an allergy. Any food can cause an allergic reaction, but the most common trigger foods in children are citrus fruits, cows' milk, eggs, nuts, shellfish, Soya, tomatoes and wheat.
Allergies And Food intolerance
Your child might experience problems every time they eat a certain type of food. But they don't necessarily have an allergy. It could be food intolerance. The symptoms, such as vomiting, stomachache and diarrhoea can be the same for both conditions. The difference is that an allergy is an immune system response and symptoms can occur just a few seconds after eating the trigger food.
Food intolerance doesn't involve the immune system. Let's take fruit as an example. Natural fruit acids can cause redness around your child's mouth and the natural sugars can be too much for some digestive systems, causing diarrhoea, but these aren't allergic reactions.
Watching Out For Symptoms
A good way to monitor your child's symptoms is to keep an allergy diary. Write down exactly what your kids eat and when, noting any symptoms that occur. Keep a note of the pollen count too if you're worried about hayfever, and noting where reactions occur might help you track down any trigger animals, or even help you identify a dust allergy.
Keep this up for a couple of weeks and then talk it over with your family doctor. If your doctor thinks it's appropriate, they might run pinprick tests or blood tests to try to establish the exact allergen that's causing the problem.
Is Asthma A Sign Of Allergy?
While asthma itself is not an allergy, asthma attacks can be triggered by allergic reactions. If your child has been diagnosed with asthma, or if they start wheezing or coughing, remember to write it all down in your food diary. There might be a connection between your child's asthma and an allergy, but you'll need to discuss things with your doctor to confirm this.
Keeping Your Eyes Open
Spotting the signs of allergy can be tricky. They're so easily confused with the symptoms of childhood illnesses, hayfever, or many other things. Don't be paranoid – remember that most children aren't allergic to anything – but if you're worried, the two crucial things to remember are to scribble everything down in your allergy diary, and to develop a good relationship with your family doctor.
You might also like...