How Do Allergy Drugs Work?
By: Suzanne Elvidge BSc (hons), MSc - Updated: 19 May 2010
|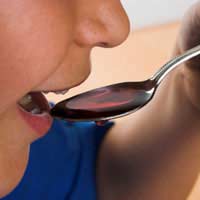 An allergic response happens when the body 'misreads' something harmless, such as pollen, as something harmful. When the immune system is faced with a harmful invader, such as an infection, it creates antibodies. The combination triggers the production of chemicals that help the body fight the invader. In an allergy, the reaction causes allergic symptoms including sneezing, itching, coughing, skin rashes, nausea, diarrhoea, even problems with breathing in serious cases.
Antihistamines
One of the chemicals produced in an allergic reaction is called histamine. This causes many of the symptoms of allergies, such as itchy eyes, rashes, sneezing and runny noses. The most common drugs used to treat allergies are antihistamines, which block the action of histamine, and help with the symptoms rather than curing the allergy. Antihistamines can be taken as tablets or as creams, eye drops or a nasal spray – the advantage of the nasal spray, eye drops and creams is that they are applied just where they are needed.
Antihistamines work best when taken regularly from before the beginning of the allergy season. Some antihistamines can cause sleepiness. Antihistamines are available on prescription or over the counter.
Decongestants
These help the symptom of a blocked nose, and may be taken as tablets or as a nasal spray. They close down the blood vessels in the nose, and so reduce inflammation (swelling) and cut down the amount of mucus produced. These are available over the counter.
Steroids
In allergies, steroids are usually given as nasal sprays. They reduce the inflammation in the nose, making it easier to breathe. Oral steroids can cause a lot of side effects, but nasal steroids aren't absorbed easily, so should cause fewer systemic side effects (effects that are seen throughout the body). With any nasal allergy medications, look out for side effects such as nose bleeds. Steroids are also available as creams, eye drops and inhalers. Steroids are available on prescription or over the counter.
Mast Cell Stabilisers
These stop the immune system cells from releasing histamine, and are supplied as inhalers, nasal sprays and eye drops. These are available on prescription.
Other Treatments
A layer of petroleum jelly inside the nose can prevent irritation from pollen, and a saline nasal spray can help with a blocked nose. Eye drops can help with itchy and tired eyes.
Desensitisation
Most allergy treatments act against the symptoms of allergy, but do not cure the disease. Desensitisation therapy helps the body learn to tolerate the allergen. In desensitisation therapy, also known as tolerance induction or allergen immunotherapy, people are given very small amounts of the substance that they are allergic to, and the amounts are gradually increased. This can take around six months to take effect, and patients may need the treatments for a number of years. Once it has taken effect, the protection can last for three to five years. The allergens are given as injections under the skin, or under the tongue. Desensitisation is used in allergies to pollen (hay fever), insect stings, dust, and animal dander allergies.
Desensitisation therapy may also be effective in very serious allergies such as peanut allergy. During 2009, doctors gave a group of children with peanut allergies increasing doses of peanut proteins, from a very small amount up to a dose equivalent to 10 peanuts. Note – this should only be done with the advice of a doctor, as reactions to peanuts can be very dangerous.
You might also like...