Alternative and Holistic Treatments for Allergies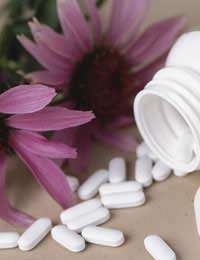 While doctors tend to treat individual illnesses, alternative practitioners attempt to heal the whole person. That's why 'holistic' is such as popular term with practitioners who use massage, herbs and other natural approaches - since it refers to the sufferer's lifestyle rather than individual symptoms.
Though complementary and natural medical techniques are often criticised by various medical professionals who see them as at best worthless, and at worse maybe dangerous, lots more people have successfully used them to ease allergies. Below is a very simple introduction to five different methods. See if one sounds like it suits you and then seek out a reliable local practitioner for further help.
Allergy Testing
Allergy testing is becoming an incredibly popular service offered in health stores whereby staff take a 'skin test' and then use the results to suggest foods and chemicals which could be causing allergic reactions. Although some people have found it's a great way to make a start on diagnosing their allergies, it remains very controversial since many health stores could be seen as having a vested interest in exaggerating the number of allergies a sufferer really has.
Ayurvedic Medicine
Ayurveda is an ancient Indian healing system which goes beyond the idea that allergies are simply the body's reaction to certain external triggers. In ayurveda allergies are also seen as being a result of low immunity and high levels of toxicity caused by bad diet and a busy lifestyle. To ease symptoms ayurvedic practitioners offer specially formulated herbs, sometimes released into the body through a massage designed to cleanse impurities and boost circulation.
Emotional Freedom Technique
Already popular in American and gaining credence in the UK, EFT is a unique form of acupressure which can help treat allergies. Exponents view various conditions (including allergic reactions) as being partially caused by unresolved stress and anxiety buried deep in the body. EFT works by gentle tapping on pre-ordained pressure points which over time practitioners claim can release this stress and so help the overall illness.
Homeopathy
In homeopathy, patients with allergies are given minute amounts of allergens in liquid or pill form, a treatment which is designed to make their body desensitised to the cause of their allergy. In a 2000 study, which was conducted by doctors at Glasgow University, patients with hayfever were given homeopathic remedies - with sufferers reporting a 22% decrease in symptoms. Although researchers acknowledged that the results were positive, they were unable to offer a scientific explanation why.
Choosing a Practitioner
Remember, when it comes to choosing an alternative practitioner, it's well worth going by personal recommendation rather than by the claims made by impressive-sounding adverts. Ask friends if they've been treated by someone reliable, or post a query on an Internet forum for your local area and look out for credible responses (rather than marketing material dressed up as a personal response). Though an alternative therapy may not be a 'cure' for allergies, finding a therapy that suits you should at least offer a step in the right direction.
You might also like...