How to Spot an Allergic Child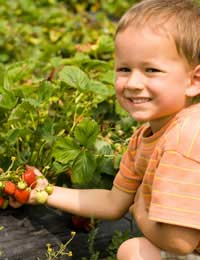 With allergies and intolerances making headlines on a daily basis, more and more parents are now on the look out for signs of allergies in their children. But what should we be looking out for and when is it time to seek medical advice?
The Symptoms of Allergy
The symptoms of allergy in children can include a runny nose, a blocked or stuffy nose, coughing, wheezing, rashes and redness in the face. But it's also true that many of those symptoms can also be associated with childhood illnesses, from the commonplace to the more serious. So what makes allergy symptoms special and how easy is it to spot them?
How Does Your Child Look?
Although it's not always true, many experts have noted that kids who suffer from allergies frequently have pale or wan complexion. It's called 'white dermatographism.' So if your child often looks 'peeky' - especially if they're also quite small for their age group - it's possible that this is a sign they're prone to allergies.
Tired-looking Eyes
Look out for darkening around your child's eyes. Called 'allergic shiners' these are just what they sound like - the appearance of dark blue discolouration almost like the beginnings of a black eye. It's caused by congestion in the veins lying underneath the thin skin around the eyes.
Long Face Syndrome
If your child suffers from asthma or nasal allergies, you might notice something called 'long face syndrome.' After years of continuous nasal blockage, some children develop protruding upper teeth and a high-arched palate. When mucous membranes inside the nasal passageway swell up with the irritation caused by an allergy, nasal passages can become completely blocked. As well as being mightily annoying and uncomfortable, these allergic children can find it necessary to breathe through their mouths, and this has a detrimental affect on their teeth too.
Childhood Wrinkles
If you're noticing lines around your young one's eyes, when they're decades too young for wrinkles, these could be the tell-tale lines known as 'Dennie-Morgan' lines. They're usually associated with nasal and chest related allergies in young children. These lines in the skin form underneath the child's lower eyelids.
Itchy Noses
Look out for what's known as the 'nasal salute.' Allergies can cause an itchy nose. The child who is a frequent sufferer of this irritating itch often begins to rub their nose using the palm of the hand, pressing in an upward direction. Watch out for this action and for the wrinkle across the bridge of the nose that often accompanies it.
Dry Skin
If your child has an allergy, and particularly if they're prone to eczema, look out for dry, rough skin, especially on their cheeks, arms and chest. This kind of dry skin condition is called xerosis.
Glue Ear
Of course, kids can often seem to be deaf when they don't like what it is they're being told to do! But look out for a poor attention span, or real difficulty hearing. It could be the result of 'glue ear' - a condition that often accompanies nasal allergies.
Postnasal Drip
Allergic children can get a constant postnasal drip leading to sore throats and bouts of coughing. It's caused by allergic mucous from the nasal passageways building up and then dripping down the back of the throat.
Facial Tics
Has a teacher, family member or playmate's mum commented that your little one often pulls funny faces at inappropriate moments? Of course, they could just be fooling around, but kids with nasal allergies can pull faces for other reasons. Their little noses are always itching, so the wriggle about trying to scratch the itch. Sadly, some of these children could go on to have facial tics and twitches in later life.
When to See the Doctor
As with most health issues, the key is, if in any doubt, consult your doctor or other health professional. If your child is frequently suffering from symptoms that could be caused by allergy, but doesn't exhibit any of the allergy signs mentioned here, you should always get them checked out anyway, to rule out not just allergies, but any other health conditions.
You might also like...