Teenage Kids and Allergies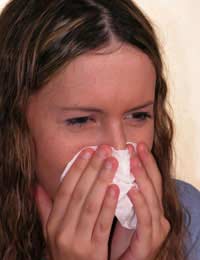 Having a small child with an allergy is bad enough. But at least you can control most of what they eat, drink, wear and play with. And they're usually not too bothered that their blocked nose makes them sound odd, or that their streaming eyes don't look as pretty as they could. But all this changes once your allergic child becomes a teenager.
What Makes Teenage Allergies Physically Worse
Stress
Stress is a big factor, and everyone who has been a teenager themselves, remembers that the teen years are full of stresses – from school work, to peer pressure, puberty and exams, it's all going on during these important years. Usually, when the brain encounters a stressful situation, it tells the nervous system to produce various hormones and neurotransmitters such as adrenaline. If this happens at the same time as a rapid uplift in the sex hormones oestrogen or testosterone, then you've got an environment likely to bring on chronic physical stress, depressing the immune system, and increasing the likelihood of an allergic response. This combination of stress and hormonal changes is the key to many teenage allergy sufferer's problems.
Sugar and Sleep
The vicious circle of lack of sleep and energy-boosting sugary snacks can play their part in teenage allergic reactions. Because teenage sleep patterns are often a bit random, many teenagers turn to sugary snacks and drinks to give them an energy boost in the middle of the day. Unfortunately, they risk getting trapped in a cycle of eating sugar, then experiencing the associated energy crash, and then having to eat more sugar again. Once again, this leads to a weakening of the immune system and increases the likelihood of allergic response.
How to Help Your Allergic Teenager
On a practical level, try to tackle the stress-related issues. Easier said than done, of course, but try to get your child into the habit of doing homework and exam revision in plenty of time to avoid panic and late-night studying. It goes without saying that making sure your child knows they can come to you, or to a trusted auntie, uncle or grown-up sibling, with any problems about school, bullying, exams or the opposite sex, should help to reduce the risk of stress in your child.
When it comes to managing their allergies, one of the key things you can do here is to empower your child to look after themselves properly. Rehearse ways of saying no to various foods or activities without losing face and encourage them to always speak up for themselves, even if the person offering the allergen is a teacher or sports trainer. But although being confident enough to speak up for yourself is crucial, there are also times for tact and diplomacy. That's because no teenager wants to be seen as a 'weakling,' or as someone requiring special treatment, so talk to your child's teachers privately in advance of the new school term, so that any special arrangements that need to be made can be as smooth and unobtrusive as possible.
Body Image
Much of what we believe about ourselves and how we look comes from our experience as teenagers. Try not to let your teenager dwell on aspects of their allergy that impact their appearance. Confident children can often rise above poor skin or asthma to become popular and energetic members of a class, so give your kids every reason to think well of themselves, and try not to let them drift into thinking that maintaining a 'low profile' is the best way to manage their allergy.
Learning to Let go
Much of the skill of parenting a teenage child is about beginning the transition of letting go. Of course, this can be particularly hard if your child's allergy is a severe or life-threatening one. But for most parents, it is simply a case of beginning to hand over the reins for managing the allergy to your child. But don't forget, if symptoms seem to get worse, or more frequent, you should always refer back to your doctor or health professional.
You might also like...