Diagnosis of Allergies in Kids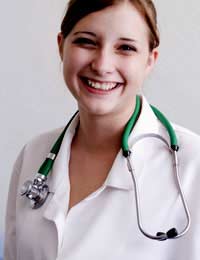 Allergies are complicated things and no matter how well you know your child, you should not attempt to diagnose an allergy yourself. There are too many variables in everyday life for you to be able to accurately pinpoint what's causing an allergic response, so it's essential to talk to your doctor.
Keeping an Allergy Diary
The first thing to do, if you suspect your child has an allergy, is to start keeping a diary. Write in it every time your child has an adverse reaction. Write down what they ate, played with, touched or wore, and make a note of the time of day and where they were at the time. You should also make a note of the symptoms. After a couple of weeks, show the diary to your doctor. It could point them in the right direction when making a diagnosis.
Your doctor will want to rule out other causes of your child's problems before starting to hunt down an allergen, so expect them to give your child a thorough examination, paying particular attention to the chest, throat, eyes and nose.
If you suspect a food allergy, your doctor will also advise you on the difference between a food allergy and a food intolerance. Many people think that they, or their children, are allergic to something, when they're not, and really something else is to blame. Of course, effective treatment relies upon an accurate diagnosis.
Testing for Allergies
Your doctor might want to run some tests to diagnose exactly what your child is allergic to. Here is a summary of what might be offered.
Skin prick test. This is usually the first test your doctor will run. The skin is pricked with a tiny amount of the suspected allergen to see if the skin reacts by becoming swollen, sore and itchy. Because this test involves bringing the suspect food into direct contact with the blood stream, it's not used for children with severe allergies.
Blood test: This tests looks at how much IgE antibody is in your child's blood. This is the antibody that the body produces in response to an allergen. The big advantage of this type of test is that it can be used on children with severe food allergies. That's because only a sample of blood is tested, and no potential allergens come into direct contact with the child.
Patch test: This test would probably be done by a specialist in your hospital's dermatology (skin) department, but it can be unreliable for diagnosing allergies in very small children. Metal discs, coated with a tiny amount of the potential allergen are taped to the skin for up to a couple of days. Your doctor will then take a look to see if your child's skin has reacted badly to any of the substances.
No more Guesswork
When it comes to diagnosing childhood allergies, don't believe everything you read in the papers. There are new scare stories every day, but true allergies are actually not that common. Getting a proper diagnosis from the doctor will help you effectively manage your child's allergy, or tackle any other problem that is causing the symptoms.
You might also like...