The Effects of Pollution on Kids Allergies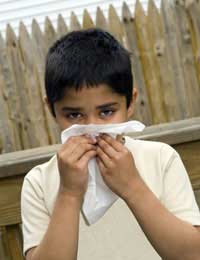 Pollution and Allergies
Have you noticed that your child's allergy seems to clear up when you're away on holiday or that it's become much worse since you moved to a new town? More and more people are realising that the air our children are breathing is impacting their health and making allergies worse. Allergies are much more common in the developed, industrial countries of Europe and North America than they are in developing nations. So what is it about modern, urban life that is making our kids allergic?
Cigarette Smoke and Allergies
The worst offender for making allergies worse is tobacco smoke. Exposure to second-hand smoke results in children's bodies being able to produce more of the anti-body called IgE. This is the anti-body that reacts to pollen, dust mites and animal saliva, triggering a cascade of allergic reactions from sneezing to rashes and asthma attacks. Parents who smoke around their kids increase the risk of their children having allergy attacks, as well as serious illnesses like bronchitis. Smoking during pregnancy and breastfeeding seems to result in a higher than average risk of the child developing allergic eczema.
Cigarette smoke and Asthma
The National Asthma Campaign advises parents that air pollution can trigger asthma attacks or make symptoms worse. Passive smoking (the name for breathing in second-hand smoke) can irritate the lining of the lungs and set off an attack.
Urban Pollution and Allergies
Urban life carries other risks for allergy sufferers. Like cigarette smoke, diesel exhaust is thought to enhance the body's ability to produce the allergy antibody, IgE, making allergic reactions more likely. Other air pollutants, like nitrogen dioxide, can also irritate the respiritory system, and if your child is prone to asthma, such irritation can bring on an attack.
Indoor Pollution and Childhood Allergies
Of course, it's not just when our children are outside that they're exposed to pollution. Laundry products are key offenders when it comes to putting pollution in the way of our kids. Some of the chemicals most frequently used to clean our clothes can cause allergic symptoms in susceptible children. Next time you're washing the family's clothes, consider that you might be using a blend including formaldehyde, phosphates, titanium oxide and even pesticide residues. Just as when you're dealing with a child with a food allergy, the key is to read the labels, and reject products that are heavy on chemicals, pollutants and potential allergy triggers. Use ecologically sound washing products and leave out the conditioner altogether. A cupful of vinegar in the rinse cycle will soften fabrics and won't leave any smell behind.
Pollution isn't great news for anyone, but for the child already struggling with allergies or asthma, it can make matters even worse. The single most effective thing you can do for your child is to stop smoking. Tobacco smoke is far and away the worst air pollutant, increasing the risk of childhood allergy and asthma. Diesel fumes are another key offender, but other outdoor air pollutants seem to act more as irritants that can aggravate allergies and asthma, rather than as direct causes of allergy or asthma.
You might also like...