The Eco Friendly Way to Allergy Proof Your Home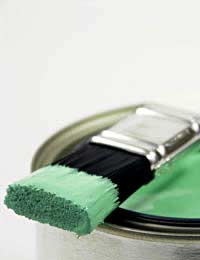 Your family home is meant to be the safest possible place in which to raise kids. So why is it that so many household products conspire to aggravate children's allergies while harming the environment? One of the biggest household threats are VOCS (aka Volatile Organic Compounds) chemical by-products which are present in everyday items such as paint and air fresheners. When used together they can create a 'toxic cocktail' within the home which can constrict airways and irritate skin.
The good news is that by thinking 'green' you can help to alleviate your child's allergies in the home. It's often a simple case of tossing out the chemicals and exchanging them for more eco-friendly alternatives.
Paint it Green
In the UK the boom in DIY-style home improvement shows has seen a general rise in sales of paint. However, statistics show that we waste far more than we use, with 12-25 per cent of paint sold in the UK never being opened. Unfortunately, when we do prise open the tin we are introducing much more than a new colour into our homes. Many paints (especially at the cheaper end of the market) contain VOCs which give off toxic vapours into the atmosphere. For an eco-friendly alternative try switching to more 'natural' water-based paints, available from eco boutiques and on the Internet. If, however, you have to go with traditional paints then make sure your house is well-ventilated and never use more than you need.
Green and Fresh
They may promise to keep your home smelling fresh - but what do air fresheners really contain? 2004 research from the University of Bristol linked regular use of air fresheners in the home with conditions such as earache and diarrhoea. Plug-in products are the worst offenders, since they release a cocktail of chemicals more likely to irritate. To naturally freshen you home try lighting incense, or if that's far too 'hippy-chic' for you, than place a cup of bicarbonate of soda in whiffy areas. The bicarb will help to neutralise odours without releasing dangerous chemicals.
Green Clean
Laundry detergents that promise 'whiter than white' results may not be the best solution for allergies or the environment. Many contain highly corrosive ingredients like sodium hypochlorite which irritate the skin and play havoc with the water table. Most supermarkets now offer popular eco-friendly detergents which are kinder to the environment and the skin. Or instead, choose specially designed Eco Balls. These cunningly created reusable balls work without detergent to gently remove dirt from your wash. Can't go without that 'just-washed' scent? Then try infusing clothes with (allergy-friendly) essential oils instead.
Green Toilet Cleaners
Manufacturers are keen to make consumers paranoid about the state of their loos - but at what cost do we use chemical toilet cleaners? As well as bleach (which can irritate skin and eyes) they contain other harmful chemicals which can be inhaled each time kids use the toilet. For ways to make your toilet more eco-friendly it helps to take a tip from Grandma and return to more traditional cleaning methods. Vinegar can be surprisingly effective when cleaning the bowl (leave some in overnight for the best results) while a combination of lemon juice and vegetable-based soap can also help keep loos clean.
Of course, this is just the beginning of a journey which could find you fully embracing green living while banishing allergens from your home. To take your cause further it's worth getting in touch with one of the many green campaigning groups and swapping ideas on making your home as green as possible.
You might also like...