Hayfever in Children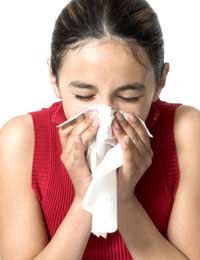 Coping With Childhood Hayfever
Most of us look forward to summer and to lazy days spent outside enjoying the sunshine. But there are some children who dread the thought of picnics, sports days and even playing in their own garden. That's because they suffer from hayfever – a common, but highly irritating, allergy to pollen.
What Is Hayfever?
Hayfever is an allergy to pollen. As such, most people's symptoms are seasonal – they come and go according to the times that the particular triggers are in the air.
For some children the problem is grasses, and for others it's particular flowers or trees. For this reason, doctors sometimes call hayfever seasonal allergic rhinitis.
Common Triggers Of Childhood Hayfever?
The most common causes of hayfever are tree pollen, particularly that of the elm, hazel, elder and birch. If your child's hayfever is worse in the spring, they're probably allergic to tree pollen.
If, on the other hand, they suffer more in summer, then it's likely they're allergic to grass pollen.
Less common is autumn hayfever, which is caused by the pollen of chrysanthemums and mugworts.
Which Children Are Most At Risk Of Getting Hayfever?
Allergies often run in families. If either parent has hayfever, their child has a higher chance of getting it too.
Some think that children from small families or those who don't go to nursery are more likely to develop allergies. This might be because they get fewer infections in the first few years of their life and don't build up their immune system so quickly.
If you're going to get hayfever, it will most likely start in childhood, with the severity of symptoms peaking between the ages of 14 and 24.
What Are The Symptoms Of Hayfever?
When a child with hayfever inhales pollen, their body produces antibodies, which in turn trigger the release of histamines. Histamines irritate the upper respiratory passages, making them swell and cause symptoms such as sneezing, coughing and a runny or stuffy nose.
Other symptoms include watery, itchy eyes, wheezing and a burning sensation in the throat.
How you can help your child to avoid symptoms of hayfever:
Wash your child's face, hands and hair at bath time.
If there's a high pollen count, give them a bath or shower and wash their hair after playing outside.
Try to establish which pollen your child is allergic to, then you only need to encourage them to play inside while that particular pollen is in the air.
Keep your child inside when you mow the lawn.
Keep windows, doors and car sunroofs closed when there's a high pollen count.
How Does A Doctor Diagnose Hayfever?
Your doctor will often be able to tell if your child has hayfever simply by asking about their symptoms. Tell your doctor when, where, and how your child's hayfever symptoms occur.
The doctor might look inside your child's nose and down their throat to make sure there are no other problems that might be causing the symptoms.
Pinprick tests and blood tests can be used to confirm exactly what your child's allergic to.
Treatments For Childhood Hayfever?
There is a range of treatments available for hayfever, but they're not all suitable for children. So, talk to your doctor or pharmacist before purchasing over-the-counter medication.
Decongestants or antihistamines might be appropriate, depending on your child's age and how bad their hayfever symptoms are. Remember, symptoms can be controlled through medication, but you can't get rid of the allergy itself.
Hayfever And Exams
Children going through school exams can have a particularly tough time if they're also suffering from hayfever. Add to that the fact that hayfever sufferers are often more vulnerable to other allergic respiratory diseases like asthma, and have sleeping difficulties caused by blocked nasal passages and snoring, and it's no surprise that some children don't achieve quite the results they'd hoped for.
Apart from taking precautions to minimise the symptoms of hayfever, think carefully before giving your child medication. Some hayfever medicines containing chlorphenamine (such as Piriton) can cause drowsiness – not what you need before sitting an exam. But medicines containing acrivastine (such as Benadryl Allergy relief) won't cause drowsiness.
Taking Hayfever In Your Stride
The first thing to remember if you're worried about your child's hayfever is that it's usually more of a nuisance than a real health hazard. That said, it can be very distressing to see your little one coughing and wheezing their way through summer when everyone else is having such a good time.
Talk to your doctor to establish that your child is definitely suffering from hayfever and discuss treatments and preventative measures. Above all, try to keep stress to a minimum, take sensible precautions, and let your child have as normal a summer as possible.
You might also like...
Don't know whether it's climate change but I keep hearing about more and more plants that affect hayfever - making the sneezy season longer each year. Apparently ragweed or something is the latest one. I do feel for any people whose kids suffer. Nasal sprays and anthistamines help but it still affects them when they're camping out doors. Does anyone have antyhing that REALLY works!
Sneexzy
- 21-May-12 @ 6:51 PM
HAYFEVER SUFFERS listen up. My 3 year old son Justin suffers terrible from hayfever, Puffy swollen watery eyes, Blocked nose, Runny nose, Itchy everything, skin throat eyes. He would wake up with blotchy skin from mucus pouring from his nose at night and was miserable with it. But finally i found a GP that cared enough to prescribe medication that really works and he now bounces out of the bed every morning in great form and you'd never know he suffers from hayfever. 1. Wash child with Silcocks Base 2. Pat dry and before fully dry apply Emulsifying Oitment 3. If skin is irritated and rashy apply Hydrocortisyl 1% skin cream (twice daily) 4. Tears Naturale eye drops 1 drop per eye (twice daily) 5. Zirtex 2.5ml (twice daily) 6. Nasobec Aqueous Nasal Spray (twice daily) 7. Ventolin Inhaler 2 puffs before bedtime May sound like a lot but only takes minutes, Does cost a lot but not an issue when its your childs health. Just follow steps 1 to 7 in the evening ang steps 3 to 7 the following morning for instant results. Cheers Marko.
marko
- 29-Jun-11 @ 10:29 AM
My child has hayfever this is the first time what should I do.
em
- 14-May-11 @ 12:48 PM