Allergy Tests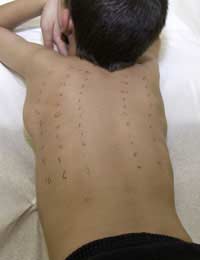 We often hear people declare that they're allergic to something. From pets to peanuts it seems many of us think we have a problem with one thing or another. But not all reactions are true allergies, and sometimes, what you think you're allergic to is not the real problem at all. Only tests conducted under medical supervision can really get to the bottom of matters.
Talking to your GP
Allergies can be serious things. If you really have an allergy, or if you suspect that your child is allergic to something, you should talk to your doctor. Your GP will probably carry out some tests to identify the allergen – that's the substance that's causing the allergic reaction. There are several types of test that you might be offered.
Skin prick test.

This is often the first test to try when attempting to identify an allergen. Your skin will be pricked with a tiny amount of the suspected allergen to see if the skin reacts by becoming swollen, sore and itchy. The problem with skin prick tests is that you might get a 'false positive.' As a result, skin prick tests are usually carried out in combination with other tests. Because this test involves bringing the suspected allergen into direct contact with the blood stream, it's not used for people with severe allergies.

Blood test.

Blood tests look at how much IgE antibody is in your blood. Your body produces IgE in response to an allergen. The big advantage of this type of test is that because only a sample of your blood is tested, and the potential allergen is not brought into direct contact with your body, it can be used if you are at risk of a severe allergic reaction and anaphylaxis.

Patch test.

If your suspected allergen seems to be causing eczema or contact dermatitis, this is the test your doctor will probably carry out. A patch test is usually performed by a specialist in your hospital's dermatology (skin) department. Special metal discs are coated with a tiny amount of the potential allergen and taped to the skin for up to a couple of days. Your doctor will then take a look to see how your skin has reacted.
If your doctor thinks it is appropriate, he or she might also refer you to one of the many NHS or independent allergy clinics around the UK. Some of them specialise in certain conditions such as asthma, which is often linked to allergy.
Is Testing Really Necessary?
To discover exactly what you're allergic to, it is necessary to be tested. There are too many variables in daily life for you to be sure what is causing your symptoms. For example, you might think it's the cat that's at the root of your problem, because you don't get symptoms in the study and you never allow your cat in there.
That seems to make good sense, but if your study is the only room in the house with a wooden rather than a carpeted floor, and with blinds instead of curtains, it could be that it's actually dust mite droppings you're allergic to. They love carpets and curtains! Even if you think you know what's causing your allergic reaction, your doctor could still want to run tests to find the exact nature of the allergen that's troubling you.
Can't I do the Tests Myself?
You can test for the three most common allergens - dust mites, cats and pollen – at home. You can buy a home allergy test kit at most chemists. The test kit includes a sterile needle, used to prick the finger in order to retrieve a small blood sample. You'll collect the blood in a special tube and post it off to a laboratory. The scientists there will get in touch to let you know the results.
Testing Times
Struggling with an allergy isn't much fun. Whether your symptoms are simply irritating or worryingly severe, it's essential to figure out exactly what's causing the problem. Only when you know what your particular allergen is, can you start taking effective measures to avoid it and to prevent allergic symptoms.
You might also like...