Can Children Grow Out of Allergies?
By: Suzanne Elvidge BSc (hons), MSc - Updated: 9 Dec 2012
|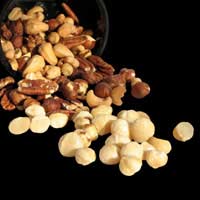 Many children have allergies to certain foods or other allergens such as tree or grass pollen, and some will grow out of the allergy by the time they become adults – for example, most children will grow out of food allergies such as cow's milk, egg, soya and wheat.
Peanut and Tree Nut Allergies
Around 20% of children with peanut allergies will grow out of them. These are generally the children who have had less severe symptoms, with fewer breathing problems. It is a good idea to have retests, especially if there have not been any symptoms for a number of years. About 9% of children with tree nut allergies will grow out of their symptoms.
Milk Allergies
An allergy to milk is the most common allergy in young children, and it affects between 2 and 7% of children under one year old. The milk can be as cows' milk, part of a cow's milk baby formula, or through breast milk when the mother has eaten or drunk dairy products. Babies who are allergic to cow's milk may also be allergic to goat's milk. Symptoms include rashes, diarrhoea and vomiting, stomach pain, and even breathing problems in severe cases.
Most children grow out of milk allergies by three years old, and 80% have lost the allergy by the time that they are adults.
Egg and Soya Allergies
Between 1 and 2% of children have egg allergies, and symptoms include skin reactions, vomiting and diarrhoea. Children with an egg allergy may only have a reaction when the egg touches their skin, or may react to all egg products or just to raw and lightly cooked egg. Allergy to the white is more common than allergy to the yolk. They may be able to eat eggs from other birds, such as quail or duck.
Soya allergies are one of the most common food allergies. Soya can be difficult to avoid because it is used as an ingredient in many foods, and soya oil is often used in cooking. By the age of ten, about 80-85% of children have grown out of allergies to egg, soya and milk.
Asthma
Asthma is often related to allergies (see 'Why Do Allergies Cause Asthma?'). According to BUPA, around one in 20 children have asthma, and between 50 and 98% of children with asthma will grow out of it by the time they become adults. Children are less likely to grow out of asthma if they have regular asthma attacks, have had to have regular hospital treatment for asthma, have eczema as well, have exercise-related asthma, or if have a chronic lung disease or begin smoking when young. Some children may find that symptoms disappear around puberty and then re-emerge when they are older.
You might also like...