Can Food in Pregnancy Cause Children's Allergies?
By: Suzanne Elvidge BSc (hons), MSc - Updated: 9 Dec 2012
|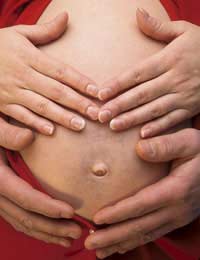 Allergies occur when the immune system decides that a common and harmless substance is actually harmful and reacts against it, in the same way that it would react against an infection. The body's reaction to an allergen (the substance that causes the allergic reaction) causes a range of reactions, including itching, swelling, rashes, sneezing, running nose and eyes, sickness and diarrhoea, and, in severe cases, even problems with breathing.
Allergies in children are increasing – according to a studies, the number of children with a food allergy increased by 18% between 1997 and 2007. Of these food allergies, 90% are caused by eight types of food – milk, eggs, peanuts, tree nuts, fish, shellfish, soya and wheat. It is not completely clear. Food allergies aren't as common as many people believe – while around 25% of people believe that they have a food allergy, actually, they only affect 4-8% of children and 2% of adults.
Why Are Allergies Becoming More Common?
It isn't entirely clear why allergies are becoming more common in children, but there are a number of theories as to why. One suggestion is the 'hygiene hypothesis', which says that children grow up in smaller families and in cleaner environments, so that their immune systems are not exposed to as many viruses and bacteria. This means that the immune system does not have as many infections to fight against, so that it starts reacting against harmless substances like pollen or food. Other theories include the decline in breastfeeding and the increase in atmospheric pollutants.
Preventing Allergies during Pregnancy
Women who have allergies, asthma and eczema themselves, or have family members including a child with allergies, asthma or eczema, have a higher risk of having children who might have similar allergic conditions. Research carried out in Australia and presented at a conference in the USA in March 2010 suggested that women who already have a child with a food allergy or an airborne allergy, or asthma and eczema, and who avoid eating foods like peanuts, tree nuts, milk, and eggs during pregnancy can reduce the risk of the new baby developing allergies, eczema and asthma. It is still vitally important for the health of both the mother and baby to maintain a good, healthy and balanced diet, and pregnant women should only avoid foods with the advice of a doctor or other health professional. Avoiding smoking during pregnancy can also reduce the risk of allergies and asthma, and will also improve the general health of the unborn child.
Preventing Allergies While Breastfeeding
Exclusively breastfeeding babies for the first six months or year seems to protect them against allergies, infections and asthma, as well as giving them other health advantages. Some allergens do cross over from the mother to baby through the breast milk, and for women with a family history of allergies, or with other children with allergies, avoiding these foods when breastfeeding may reduce the risk of the new baby developing allergies.
You might also like...