What are Allergies?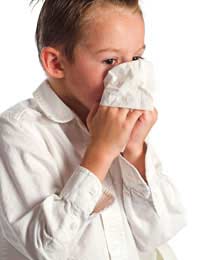 We often hear people say they're allergic to one thing or another. Symptoms seem to range from a slight sniffle to potentially lethal anaphylaxis. With such a wide range of culprit triggers – dust animals, pollen, dairy products and wheat to name just a few – how do we know exactly what it is that makes an allergy an allergy?
Allergies and Intolerances
Many people today who claim to have an allergy actually have an intolerance. This is particularly true of lots of individuals who believe they have a food allergy. An intolerance means that the body has trouble digesting a particular substance, such as wheat or dairy products. As the body works hard to digest heavy-going food, the sufferer can experience lots of unpleasant symptoms including bloating, painful trapped wind, diarrhoea and constipation. There's no denying that intolerances are not much fun, but they're not the same thing as an allergy – even though some of the symptoms may be the same.
Allergies and the Immune System
A true allergy involves the immune system. The first time you come into contact with your trigger allergen, whether it's peanuts, pollen or puppies, you won't experience an allergic reaction. But your immune system will 'remember' the trigger substance, because it perceived it to be a dangerous invader. The next time your body encounters the trigger substance, a chain reaction takes place. The immune system releases large amounts of antibodies to deal with the 'invader.' In turn, these antibodies set off the release of histamine into the bloodstream. It's histamine that causes the wide range of physical symptoms, from the irritating, to the life-threatening.
Allergies and their Triggers
Anything is a potential allergy trigger. It's a safe bet that someone, somewhere will be allergic to pretty much any substance you might come across. In our modern world, the huge number of chemicals and synthetic products we use have given rise to a whole new set of allergies, while other people suffer from allergies that have been bugging human beings for centuries, like hay fever.
From bee stings, to latex, to shellfish and cheese, the list of allergy triggers just goes on and on. While it's true to say that these days we have many effective remedies for reducing the symptoms of allergy, such as anti-histamines, we still cannot cure the allergy itself. The best method of minimising the number of attacks is still to avoid your trigger substance.
Symptoms of Allergy
Once an allergic response has been triggered, symptoms can appear very suddenly, although it can take several hours. Typical symptoms of allergy might include a runny or blocked nose, watery, red and itchy eyes, skin rashes, vomiting, diarrhoea, coughing, sneezing and wheezing. The most serious allergic reaction is anaphylaxis, or anaphylactic shock.
Anaphylaxis
This is without doubt the most worrying type of allergic reaction. Once a person begins to experience anaphylaxis, they need medical treatment immediately, or the condition is likely to prove fatal. The effects of anaphylactic shock can come on rapidly and they affect the whole body. The person will experience a sudden drop in blood pressure and a severe narrowing of the airways, restricting their breathing.
Without an immediate adrenalin injection, collapse, unconsciousness and death may result. If you suspect someone is having an anaphylactic reaction, dial 999 straight away. It's possible that the sufferer is carrying an adrenalin injection kit on them, so keep that in mind when talking to emergency services.
Allergies can be annoying, and they can be unpleasant. If you're particularly unlucky, they might even be dangerous. But don't be panicked into thinking that every time a particular food disagrees with you, that you have another allergy. Remember the key role played by an over-zealous immune system whenever you're wondering if you truly are allergic or not.
You might also like...