Are Food Intolerances Real?
By: Suzanne Elvidge BSc (hons), MSc - Updated: 9 Dec 2012
|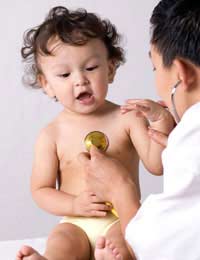 Food intolerances are reactions to certain foods, and the symptoms can include bloating, stomach pains, sickness and diarrhoea. The symptoms of food intolerances tend to vary depending on how much of the food in question is eaten. The symptoms of a food intolerance generally take a number of hours up to a few days to appear.
What Causes Food Intolerances?
People with food intolerances may not be able to digest certain foods properly because they lack certain chemicals or enzymes. For example, people with a milk intolerance may lack lactase, which is the enzyme needed to help the digestion of lactose, the naturally-occurring sugar in milk, and people who cannot tolerate alcohol may lack alcohol dehydrogenase, which breaks down alcohol.
Food intolerances appear to be (at least partly) inherited, and can be more common in people from certain regions – for example, people from Asia are more likely to be alcohol intolerant than people from Europe.
Are Food Intolerances The Same As Allergies?
Food intolerances are not the same as food allergies. An allergy is a misguided reaction from the immune system when it detects something harmless, such as a food, and mistakes it for a foreign invader, such as an infection. Someone who is allergic to a certain food will react to even a small amount of it. Allergic reaction symptoms include skin rashes, itching, coughing, wheezing, sneezing and vomiting, and will appear in an hour or two.
Are Food Intolerances Real?
According to research carried out at the University of Portsmouth and published in January 2010, around one in five people in the UK claim to have a food intolerance, with a claim to an intolerance to wheat being the most common. However, only around 2% actually have a true intolerance. This shows that, while intolerances are unpleasant and uncomfortable, they are not particularly common.
Food intolerances are treated by simply cutting the food in question out of the diet. Concerns about food intolerances mean that a great many people could be cutting important foods out of their diet unnecessarily, which could lead to them eating an unhealthy and imbalanced diet. This may be especially harmful for children and young people if they avoid important foods like milk, which are a major source of calcium, or wheat, which is a good source of B vitamins. Food should only be cut out of the diet under the supervision of a doctor or dietician.
There are a number of companies that claim to be able to test food intolerances. Some of these are not reliable and are not based on scientific principles, and can be very expensive. Rather than spending money on over the counter tests, talk to a GP or dietician about any concerns over food intolerances.
Is Coeliac Disease An Allergy Or An Intolerance?
Coeliac disease is a reaction to a protein in wheat, barley and rye called gluten. It is neither an allergy nor an intolerance, it is an autoimmune disease triggered by the protein, which causes the immune system to attack the gut. The symptoms include diarrhoea, stomach pains, joint and bone pains and weight loss. Coeliac disease is treated by avoiding gluten.
You might also like...