Living With an Allergic Brother or Sister
By: Suzanne Elvidge BSc (hons), MSc - Updated: 10 Dec 2012
|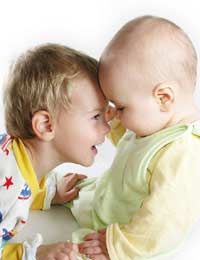 Relationships between brothers and sisters can be difficult at the best of times, but adding the complications of one or more members of the family having some kind of allergy and so needing special considerations could easily make things even worse.
Missing Out On Food
In families with one or more children with food allergies, one way of dealing with it is simply making sure that everyone eats a diet that is safe for all family members – this avoids the risk of accidental contamination. Making the food as healthy and tasty as possible will make sure that no one feels that he or she is missing out.
Another way is to maintain a house where there is food for everyone, but make sure that everyone understands what food is safe for which family members. This may be a better way to teach the children with food allergies how to cope in the real world, and helps the non-allergic children not to feel deprived. When following this route, it's important to keep in stocks of treats for both the allergic and non-allergic siblings, and it can make life easier to keep separate utensils (and even preparation areas or fridges and freezers) for different types of food.
Missing Out On Pets
It may seem unfair that a child make not be able to have a pet, or even have to get rid of a much-loved animal because a sibling is allergic to it. A way round may be to arrange for the non-allergic child that wants a pet to help out at an animal rescue centre, look after the animals at school, or perhaps walk a friend or neighbour's dog (and this can be a way to earn extra pocket money too!)
Missing Out On Trips
Children with severe hay fever may not be able to travel or visit the countryside on certain days because of high pollen counts. Others may not be able to go on farm or zoo trips because of allergies to animals. Consider taking all members of the family on trips that are low-allergy (perhaps swimming or going to museums and galleries), or take different children on different trips tailored to their interests (and allergies) so that no-one feels left out.
Making Extra Work
Having a brother or sister with allergies can make life extra-complicated and make extra work – for example, all siblings may be asked to help with more regular house cleaning and laundry because one has a dust allergy, or a child may have to wash or even change clothes on returning to the house if he or she has eaten peanuts while out with friends. Make sure that all children have equal tasks fitted to their allergies.
Helping Children Understand
It is important that all family members understand why the precautions around allergies are so important – that it is not just siblings being fussy about food, or using the high pollen count as an excuse not to help out in the garden. Any of these precautions can risk causing resentments and may lead to arguments, and it is vital to keep communicating and make sure that each member of the family still feels valued and cared for.
Protection Against Allergies
Children with older brothers and sisters are less likely to have allergies than children that do not. The reason isn't clear, but it might be because they are exposed to more infections as young children.
You might also like...