An Allergy Free Birthday Menu
By: Suzanne Elvidge BSc (hons), MSc - Updated: 14 Dec 2010
|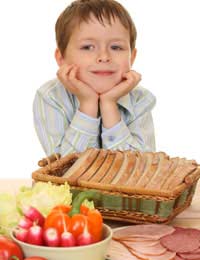 Whether you are planning a birthday party for an allergic child, or have just been told that one of the guests has an allergy, this can make preparation a bit more difficult. Follow these hints and tips - they might just make the day go a bit more smoothly, and see also 'An Allergy Free Christmas Menu' for additional ideas.
Planning the Food
If one of the attendees has an allergy, find out a bit more about it. Is it so severe that he or she cannot eat anything that has been prepared in the same kitchen, or would just labelling plates of food be enough? The most common allergies are likely to be milk, egg, wheat or nuts.
So that the allergic child doesn't feel too 'different', try preparing a food parcel for each child, clearly labelled with his or her name, and watch out for any food-swapping. This would also work well if the child needs to bring his or her own food. The food parcels can be adapted to the party – for example, 'rations' for a pirate-themed party. The packaging doesn't need to be expensive – hand out sturdy brown paper bags at the beginning of the party and get the children to decorate them as the first game, and then fill them up why they are playing other games.
If the birthday boy or girl has the allergy, the easiest thing will be to make all the food 'safe' – this allows everyone to eat everything, and might help to explain any food issues to other children, and to their parents.
The Snacks
If you need to avoid wheat and nut-based snacks – try plain salted crisps, sticks of raw vegetables, cubes of fresh fruit, and bowls of dried fruit. If dairy is allowable, then include savoury yogurt-based dips with chives, soft cheese or a few spices and carrot or celery sticks, or sweet ones with fruit purees, low sugar jams or finely grated chocolate and small pieces of fruit on cocktail sticks. Cubes of cheese and bite size pieces of meat work as finger food too.
The Sandwiches
Gluten-free sandwiches can be made out of gluten-free bread, or make cornbread using cornmeal and serve it in chunks with different toppings.
Instead of having sandwiches, especially for a winter birthday party for older children, bake small potatoes and have piles of different fillings so that the children can help themselves. Another winter alternative is homemade soup (making it from scratch means that you know what has gone into it) served in mugs with allergy-friendly crackers.
The Desserts
Fruit kebabs are fun, with chunks of pineapple, kiwi fruit and grapes on skewers, or mini ones on cocktail sticks. These can be served cold, or grilled for a few minutes and served warm, with dairy-free ice cream or yogurt. Jelly usually goes down well, especially in different coloured layers with fruit in between, and this can be made into wheat- and dairy-free trifle using custard made with cornflour and soya milk, and a dairy-free whipped topping.
The Cake
Cakes can be made gluten-free, dairy-free, nut-free and even egg-free – try searching the Internet for recipes. As an alternative to a cake, make layers of meringue (only if eggs are not an issue), or layers of crispy cake (made with gluten-free rice crispies and chocolate, if dairy is not an issue), sandwich them together with fruit puree or allergy-friendly ice cream, and serve with piles of fresh fruit and dairy-free cream.
You might also like...