Wheat Allergies in Kids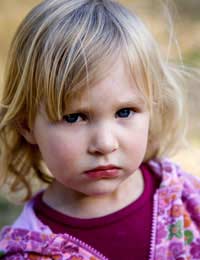 What is a Wheat Allergy?
A true allergic reaction to wheat occurs when the child's immune system thinks gluten (the name for the protein found in wheat) is a dangerous invader and produces anti-bodies to deal with the threat. These anti-bodies cause the release of histamine and it's this that triggers all the symptoms, such as rashes, psoriasis, sweating and cramps.
A wheat allergy might not always result in a severe reaction but can cause plenty of problems with digestion, such as diarrhoea, constipation and bloating. A wheat intolerance doesn't involve the immune system, and is caused by the difficulty some children experience in breaking down the gluten in wheat products. To find out if your child is allergic to wheat and doesn't simply have an intolerance talk to your doctor.
Which Foods Should your child Avoid?
There's no cure for a wheat allergy, so the only way to ensure your child doesn't get allergic symptoms is to avoid foods containing wheat. This can be daunting as daily 'essentials' like bread, pasta, breakfast cereal, biscuits and breaded foods such as fish fingers are all likely to contain wheat. Start reading labels carefully. Of course, you'd be right to avoid bread, but would you know there's often wheat in soup, sausages, burgers and sweets? It's not always obvious which foods contain wheat, so become a label detective.
Talking to Your Child
If your child has a wheat allergy, you'll want them to be safe and healthy, but you'll also want them to be well-adjusted, confident children, so it's essential that you enable them to be vigilant without being paranoid. Once they're old enough, teach them to recognise foods containing wheat, and what to look for on labels. Rehearse some tactics for saying 'no' without losing face.
Talking to the School
Talk to the head teacher about your child's allergy to wheat and discuss ways that the school can manage it. They should have a day-to-day plan for managing your child's allergy, which would include a list of dos and don'ts for kitchen staff, and an emergency plan in case your child does have an allergic reaction. Everyone on the school staff should know what to do in such an event. Planning ahead and good communication are essential. Talk to the leaders of after-school clubs and to your child's friends' parents, too.
Cooking for the Wheat-Allergic Child
One look around the shelves at any major supermarket will reassure you that your child won't have to go without bread, cakes or pasta, as there are plenty of wheat-free varieties around. You can also explore eating other grains. If you can't track these down in supermarkets, have a look around a health food store. You'll be surprised at the variety and might discover that your cooking becomes more adventurous. There are plenty of wheat-free cookbooks on the market. Learn how to make your own bread and biscuits without wheat. All it takes is imagination and know-how and you'll soon be creating scrumptious treats without a hint of wheat to spoil the experience.
Eating Out with the Wheat-Allergic Child
Talk to the restaurant manager about your child's allergy. Do this in advance if you can and always make sure you're talking to someone in authority. Explain the consequences of an allergic reaction in your child and even when they insist a particular dish is wheat-free, ask them about the sauce or gravy – remember wheat can hide in many places. If you have a favourite local restaurant, it's worth building up a good relationship with the manager there.
Hidden Wheat in Childhood Products
Wheat can pop up almost anywhere. Did you know that some playtime moulding dough contain wheat? Or that soft toys can have traces of wheat in their stuffing? If your child has a pet, there could be wheat in the pet's food. If you're being super-diligent around food and allergic symptoms keep happening, it could be one of these unusual suspects that's to blame.
Managing a childhood wheat allergy can be challenging. As with other food allergies, your main weapon against allergic symptoms is to read labels and cook as much as possible from scratch with wheat-free ingredients. Remember there's a wide world of food out there that doesn't contain wheat, so there's no reason for your child to feel left out.
You might also like...