Elimination Diet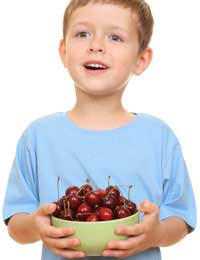 Diagnosing Your Allergy With A Food Elimination Diet
Food allergies can vary from mildly irritating to life threatening. But either way, if you suspect a food allergy, you're sure to want to do something about it, and finding out exactly what you're allergic to is the first step.
A food elimination diet is one way of doing this. It's not easy, but many people find it really helpful. Here's a run-down of what you'll need to know.
What Is A Food Elimination Diet And When Would You Try One?
A food elimination diet is designed to find out exactly which type of food is causing your allergic reaction. It involves withdrawing potential trigger foods, and reintroducing them one at a time, to see which, if any, are causing your problems.
How A Food Elimination Diet Works
First of all, you should always carry out a food elimination diet in partnership with your GP or allergy specialist. Never go it alone. But if your doctor does recommend an elimination diet, here's what you can expect.
You'll cut out a whole range of potential trigger foods for between five and ten days. You'll keep away from all of these foods until any existing allergy symptoms have disappeared. After this time, you'll start to eat one of the potential trigger foods each day, noting any reactions.
Don't forget the symptoms might not happen immediately. Some allergic reactions can take hours to occur. Take careful note of what you eat and when and write down what, if any, symptoms you experience.
During this part of the diet, it's essential to read all food labels and ask questions about food preparation methods if you're eating out. In fact, you'll probably find it easier to prepare all your own food from scratch. That way, you'll know exactly what you're eating.
It would be a waste of time to stick strictly to your diet regime, and then ruin the accuracy of your results by eating wheat, dairy or Soya that you didn't even know was there.
You'll also need to invest time keeping a food diary. Record everything you eat and drink.
The Foods To Eat On An Elimination Diet
You'll be cutting a lot out if you go on a food elimination diet. But here are the foods you'll probably be okay to eat. But, don't forget, talk to your doctor about your individual case.
Most vegetables, but not beans, peas or sweetcorn.
Most fruits except citrus fruits.
Most meats, but not sausages, bacon, corned beef or any other processed meat.
Rice, barley, quinoa and buckwheat. You might not have heard of all of these, but they're good for filling you up. You'll probably find them all at your supermarket, but if not, ask at your health food shop.
Bottled, spring or distilled water.
Herb tea.
The Foods To Avoid On An Elimination Diet
It's a tough one. Here's everything your doctor will probably tell you to avoid. Remember to check your food labels for hidden ingredients.
processed foods
anything with artificial colouring
milk
tea and coffee
chocolate
bacon
processed meats like sausages and corned beef
eggs
nuts
peas, beans and sweetcorn
citrus fruits
sugar
wheat
Successfully Carrying Out An Elimination Diet
Carrying out an elimination diet needs determination and strong will power. Here are some of the things you'll need to do to succeed:
Talk to your doctor. Never start an elimination diet without medical support.
Talk to your family. You'll need them to help you stay on track
Think about when to carry out the diet. Don't try it when you're on holiday, or if you're travelling a lot.
Keep a diary of your symptoms for a week before you start the diet.
Be accurate with your food diary while you're on the elimination diet.
Is An Elimination Diet A Foolproof Way To Diagnose An Allergy?
The food elimination diet isn't foolproof. It doesn't take account of psychological and physical factors that might affect your result.
Staying Healthy On A Food Elimination Diet
If you begin to remove foods from your diet, you could experience a lack of some nutrients and this could start a range of other health problems.
While you're on a food elimination diet, be sure to eat a wide range of the allowed foods, and make up for the nutrients that you've eliminated in the banned foods. Ask your doctor or dietician about this.
A dietician can help you plan tasty and nutritious meals while you're on the diet.
Ready To Go?
Think hard before undertaking a food elimination diet. They take commitment and you'll need to be prepared to be completely honest and accurate about everything you eat.
But, if you're concerned about a food allergy, and if you haven't been able to successfully identify and manage the problem, you might find it's a useful way to take control of your condition.
You might also like...