Difference Between Food Allergies & Food Intolerance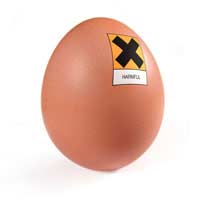 Food allergies and food intolerance are two different subjects but something that the general public get quite confused sometimes.
Many people can be intolerant of certain foods at different times during their life but do not suffer from an allergic reaction whereas some people, especially slimmers are having tests carried out to find out if they are allergic to certain foods, again without suffering from an allergic reaction of any kind.
Whereas most of us will have had a reaction to certain foods in the past but this is frequently because of the way it has been stored, prepared or has been contaminated with another product.
What Is a Food Allergy?
A true food allergy is not as common as most people believe as it is thought to occur in around 1 in 70 people. It is true that it is more often seen in young children but most of these will grow out of their allergy by adulthood.A proper food allergy causes the body to react to certain foods that it is sensitive to.
These reactions are due to the immune system 'kicking in' and releasing immunoglobin which is an antibody sent to fight off the item that the body is sensitive to. This reaction causes a histamine release which although may cause a severe reaction, will cause the body to produce an immunity to the substance in the future.
Histamine responses can be varied but occasionally life threatening and symptoms can include itching, eyes watering, swelling of the face and airway, skin complaints and sometimes vomiting and diarrhoea.
What Types Of Foods Usually Cause An Allergy?
Although it is possible that someone may be allergic to any food product, the most commonly seen food allergies include soya, wheat, milk (particularly cow's milk), peanuts eggs and shellfish.
What Is Food Intolerance?
Food intolerance is something totally different. An intolerance of food will not cause a reaction of the immune system but is usually caused by a digestive problem, commonly that certain enzymes levels are low leaving some food items partial digested.
This decrease in digestive function can lead to cramping, bloating and occasionally sickness and diarrhoea. The symptoms can last for several days and dehydration may be a risk, as those affected may suffer form a decreased appetite and a lack of feeling like wanting to drink.
What Foods Are People Most Often Intolerant Of?
There are many foods that may cause an intolerance with the most common being cow's milk, alcohol, additives and caffeine. Food intolerance does not mean that the person cannot have any of the product as often they can tolerate a small amount but this does depend on the amount of enzymes in the system an d how bad the deficiency of certain ones is.
Why Do People Get Confused Between The Two?
Sometimes with food intolerance the lack of enzyme function can cause a build-up of by-products in the system which can become toxic to the body which can occasionally cause similar reactions to those seen in food allergy.In order to determine the cause of any physical symptoms it is advised that you see your GP who can arrange tests to determine which products may be contributing to your problem and also to find out if you have a food intolerance or a true food allergy.
You might also like...