Dermatitis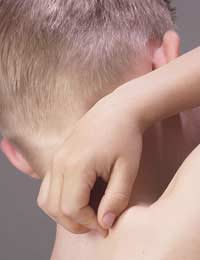 Dermatitis is a medical name given to describe an inflammation of the skin often used in conjunction with the term eczema. It can be either short in duration (acute) or long term (chronic).
Why Does Dermatitis Happen?
Dermatitis is most often seen because of a reaction to some sort of allergen or irritant. The skin can become sensitive to certain chemicals, materials or even natural products and develop an inflammation as a result.If the dermatitis is due to an allergen, it indicates that the immune system is fighting against something and producing a reaction. Allergic dermatitis can occur even when contact with the allergen has not caused a reaction in the past. The body slowly develops an immunity response that can be triggered at any time. An example of this is medical staff and latex gloves. Prolonged use over time can cause an allergic reaction to develop, even if there have been no problems in the past. Continued exposure to the latex can gradually worsen the reaction when exposed. It is very unlikely to be free off the allergen once a reaction has been triggered.Common substances that cause an allergic dermatitis include nickel, latex, lanolin, perfumes, some food products and even some plants.
Symptoms of Dermatitis
Initially the response may present as a small patch or redness. This can become extremely itchy and then sore and increase in area as the dermatitis worsens. Eventually the area may blister, crack and weep fluid and increase in discomfort. Occasionally the reaction may spread to areas outside of the contact site, but most reactions clear up when contact with the allergen is ceased.
Treatment for Dermatitis
Immediate treatment for this type of reaction is to remove the source of the problem and prevent the person coming into contact with the allergen.The area may need cleansing and moisturising to prevent the skin from becoming thickened and dry. Your pharmacist will be able to advise on the vast selection of these types of lotions and how they should be used properly.If the skin has become cracked, any signs of infection such as continual weeping of fluids, discoloured fluids, failure to heal or worsening of the soreness even when the source has been removed will need observing and reporting to your doctor if need so appropriate treatments ca be sought.
Preventing Dermatitis
In some cases dermatitis cannot be prevented as exposure to the allergen has caused no previous reaction in the past and can occur quite suddenly.However, after the first episode, the person can usually determine the cause of the reaction and avoid coming into contact with it again. If the allergen exists in your workplace, your employer is obliged to find suitable protective equipment, amend the work setting or find suitable alternative employment or transfer depending on the local policy.If a baby has been affected it may be due to a food allergy and advice from your health visitor or doctor is advised as food intolerances and allergies will need testing for and investigating.
Dermatitis is an inflammatory disorder of the skin. It is often caused by developing an allergy to something which can worsen over time.
You might also like...