Allergies to Beauty Products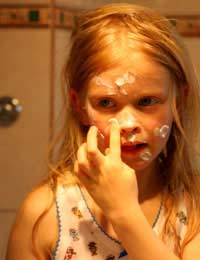 Beauty products, toiletries and cosmetics are a daily part of modern life. Most of us use them without any adverse reaction, but for some people, allergies to beauty products can cause irritation and annoyance.
Which Cosmetics can cause Problems?
There are thousands of products on the market, containing countless ingredients, such as preservatives, antioxidants, colours and UV filters. These can be found in everything from moisturising cream to soap and from lipstick to hair colorant.
What are the Symptoms?
There are two main types of reaction to beauty products: irritant and allergic. If your skin reacts immediately or over a few hours, it's likely to be irritant in nature. If you get symptoms over a longer period, it's likely you have experienced an allergic reaction. To the untrained eye, it's hard to tell the difference between the two types of reaction, but irritant reactions tend to cause discomfort, itchiness and redness, whereas true allergic reactions can be more persistent and sometimes severe.
Irritant reactions to beauty products are the most common, but these are not true allergies. If you've ever developed chapped hands after using a particular hand cream, you've had an irritant reaction. If you have a history of eczema, asthma or hay fever, or if you are very fair-skinned, you're more likely than others to experience an irritant reaction. Irritant reactions can make skin scaly and red where it's at its thinnest, such as on the eyelids, or between the fingers. Although unpleasant, this type of reaction is only rarely severe.
Allergic reactions are less common than irritant reactions. There is no one particular ingredient that causes allergic reaction. In fact, most beauty products will probably cause an allergic reaction in somebody. But certain products are worthy of keeping a closer eye on. Hair dyes can cause particularly severe allergic reactions. Always look out for warnings on the packet and always carry out a patch test first.
How do Skin Allergies Work?
The substance you are allergic to is called an allergen. When an allergen comes into contact with your skin for the first time, your immune system will produce antibodies, which bind themselves to the allergen on the mistaken belief that it's a dangerous invader. Your body 'remembers' this reaction and the next time you get exposed to the same allergen, your body mass produces antibodies to tackle the perceived invader. That's what causes the allergic reaction.
Which Substances are Potential Allergens?
Some of the most likely suspects are the preservatives that protect the product you're using from bacterial and fungal growth. Sadly, the best preservatives are often the most likely allergens. You should also look out for UV filters. They're very useful for protecting the skin and hair, but can cause allergic reactions.
Testing for Allergies to Beauty Products
Patch testing is the most common way to check for a true allergy. A skin specialist, called a dermatologist, will apply patches of potential allergens to your upper back. These patches stay in place for 2 days. Then the dermatologist will examine your skin to see the results.
What is Meant by Hypoallergenic?
The term 'hypo' means 'less,' so this means that the manufacturers have attempted to reduce the likelihood of allergic reaction. For example, as many fragrances can cause allergic reactions, most 'hypoallergenic' cosmetics are fragrance free.
Managing your Allergy to Beauty Products
You'll probably want to consider working out if you have a true allergy, or if you're experiencing irritant reactions due to skin sensitivity. Talk to your doctor or skin specialist about this. Of course, severe allergic reactions need medical care and attention, but if your experience is more annoying than worrying, start reading labels and avoiding as many chemicals and additives as you can.
These days, it's easier than ever to find beauty products that are natural, organic and additive free. Switch for a while and see what makes a difference to your skin. Remember, there are thousands of ingredients in thousands of products, so it could take some time to pin down exactly what is going to work best for you.
You might also like...