Coping Skills for Children With Allergies
By: Suzanne Elvidge BSc (hons), MSc - Updated: 20 Feb 2013
|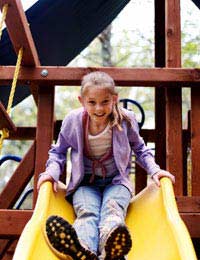 Children diagnosed with allergies, from mild bouts of hay fever though to life-threatening food or insect sting allergies, can become anxious and stressed about their allergies. Learning coping skills can help them to relax and enjoy life despite the allergies, rather than worry constantly because of the allergies, and will help them keep healthier and avoid allergy attacks and hospitalisation.
As children get older and are able to take on responsibility for their own health, at least partly, the coping skills that they learn can also help the parents and carers by taking a certain amount of the burden of the allergy and passing it onto the child.
Information about Allergies
It's important that children know as much about their allergies as possible, and that they understand what they need to avoid – this means that they can take a certain amount of responsibility for their own health, and this 'ownership' gives them confidence, which will help them cope. The key things that children need to know are:
Which allergens cause their allergies
How they can avoid these allergens
What to do if they come in contact with the allergens
What their drugs are and what they do
How to explain the allergies to their friends
Learning about Allergies
Workshops that help children learn about their allergies can provide them with the information that they need to avoid allergy attacks or cope with them when they happen. If there are no workshops available, there are a lot of books and websites for children that can help them learn about what is happening to them.
There are activity holidays for children with allergies and asthma – for example, Asthma UK runs activity holidays for children and teenagers with asthma. These will give children confidence in what they can do, and gives them the chance to meet other children that have to deal with the same issues. There may be a self-help group locally where children can meet other children with allergies and learn coping skills from each other – or if there isn't, why not set one up?
Anxiety and Stress
Knowing that they have an allergy that can potentially threaten their lives can cause children a lot of stress and anxiety, and can make them afraid to do things like go out to eat, or stay over with friends. It's important for parents to try not to allow their own stress and anxiety to add onto this. Learning about their allergies and what they can and can't do will help. Another useful coping skill is learning how to express anxiety and stress and deal with it – arts workshops can help children express their worries, whether it's through painting, drawing, drama, writing or other forms of arts.
Gaining Independence
If children with allergies get the opportunity to learn about their allergies and gain coping skills, they will get the opportunity to become independent, and will be better prepared to be able to manage their allergies as they get older. Gaining coping skills to live with something like an allergy can help make children more confident and resourceful because they learn about facing up to problems and dealing with them.
You might also like...