When Your Child is Diagnosed With Allergies
By: Suzanne Elvidge BSc (hons), MSc - Updated: 9 Dec 2012
|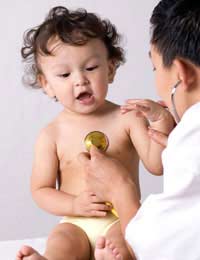 Allergies can range from a simple pollen allergy that can be treated with over-the-counter antihistamines for a few months over the summer to a severe food allergy that could potentially result in a severe allergy attack and hospitalisation.
Finding out about something like hay fever is generally little more than just an inconvenience, but when a parent or carer finds out that their child has a severe allergy, this can be a major blow.
Grieving and Coping
Parents dealing with their child's diagnosis can go through a stage that is like grieving – they have to accept that life for them or their family is never going to be quite the same again. They can also feel guilty – feel that they could have done something to prevent it (though that is unlikely) or that it is something that the child has inherited from them. Sometimes the diagnosis of an allergy can actually be a relief, because at last it explains weeks, months or even years of symptoms, and suggests what can be done to help in the future.
Having a child with a severe food allergy can be very stressful – all parents have to be 'on duty' a lot of the time, but this is even more important for parents or carers of allergic children.
Learning
It is important for parents and carers of children with any kind of allergies, but especially for severe allergies, to learn as much as possible about the allergy, and how to prevent and treat attacks. There are some workshops that help parents and carers learn about their children's allergies, including how to manage allergy attacks and emergencies, how to cope with stress and anxiety (and how not to pass it on to the children), how to teach their children about allergies and risks, and how to teach other people about their children's allergies. If these workshops are not available locally, there are books and websites that can help, and a nurse or doctor that specialises in allergies will also be able to direct parents and carers towards information.
Self-Help
Parents of children diagnosed with severe allergies can feel very isolated, and joining a society that specialises in your child's allergy will provide the whole family with help and support. See if there is a group locally to help parents and carers who have children with allergies – this can be a great way to get hints and tips, and just to meet other people who are in the same position and who have dealt with the same problems. If there isn't one, think about setting one up.
Planning
Planning is vital. Parents or carers should plan how to deal with everyday and emergency situations – for example, how to explain the allergies to friends and family when children visit or stay over, or how to deal with a minor or major allergy attack. It's a good idea to have a medications pack with instructions prepared for children to take with them when they go away, as well as an emergency pack with any emergency numbers and emergency medications in it.
Keeping a Balance
It is tough when a child is diagnosed with allergies, whether they are mild or severe, and parents and carers must learn to create a balance between protecting their children and over-protecting them, and also not restricting the lives of the whole family too or not allowing the allergic child any independence.
You might also like...