Count the Petals Puzzle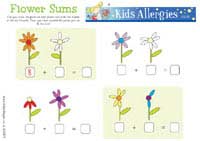 Flowers can be really beautiful - and can make your garden a lovely place to spend time in the Summer. Occasionally though, some children can be allergic to the pollen in flowers - they could make you sneeze and get runny eyes!
You can still enjoy looking at the different types of flowers in your garden though, and even help your Mummy and Daddy do some digging!
Can you count the petals on each the flowers in this puzzle and write the answer in the box beneath? Once you have counted the petals you can do the sum!
Why not Download the Count the Petals Puzzle and see if you can complete all the petal sums.
For Parents
This activity is aimed at 4 to 7 year olds, it's a fun way to raise your child's awareness of allergies and build their maths and problem solving skills.
We have many other games and puzzles in the Download section which can be reached from the sidebar on the left. All our printable puzzles are completely free and are great to keep on hand for kids to do at any time, or as a fun rainy day activity.
All of our puzzles are supplied as a pdf so you'll need to have Adobe Acrobat installed on your system. If you haven't, Google it and you'll find lots of places and instructions on how to get it.
You might also like...