What is Asthma?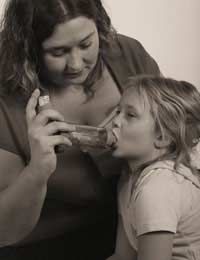 Asthma in childhood can be a frightening condition that leaves children fighting for breath and parents looking on in anguish. Usually controlled with medication it is very common amongst children in the UK. As unfair as it may seem, asthma and allergies often go hand in hand, with a large number of children suffering from both. But asthma is not actually an allergy in itself, although it can be triggered by allergic reactions in susceptible children.
Physical Changes in an Asthma Attack
Asthma is a potentially life-threatening condition that affects the airways as they carry air to and from the lungs. The mucous membranes in the small branches of the airways swell up and the chest muscles contract. Airways become narrow, inflamed and often produce an excess of mucus, resulting in breathing difficulties.
Asthma Triggers and Allergies
Some children are vulnerable to certain triggers, which can set of an attack. Such triggers include having a cold, breathing in second-hand tobacco smoke, exercise or some allergies like an allergy to pollen, also known as hay fever, allergy to dust mites or allergy to animals. If the allergic child also suffers from asthma, coming into contact with the allergen sets off a cascade of symptoms that can result in an asthma attack.
Asthmatic Kids are not Alone
If your child has asthma, they're not suffering alone. More than 1 million children in the UK have asthma. That's about 1 in every 10. So the chances are that they won't be the only child with asthma in their class at school. Always make sure your child's teachers are aware of their condition and know what to do in an emergency.
What are the symptoms of asthma?
In children under 3 years old look out for:
Coughing or breathlessness when they're on the move
Wheezing as they exhale
Coughing even when they don't have a cold
Coughs that get worse at night
Frequent coughs and colds
In children from 3 to 16 years old look out for:
Avoiding playing games and sports they once enjoyed
Wheezing as they exhale
Coughing at night or first thing in the morning
When Should you take your Child to the Doctor?
If you start to notice any of these symptoms in your child, you'll need to take them to see your GP. If your suspicions are correct, the doctor will probably prescribe medication to control their condition and will monitor how they get on. You should also take your child to the doctor if they already take asthma medication, but it doesn't seem to be working as well any more. There are lots of different kinds of asthma medication, so your doctor might change your child's prescription.
Is an asthma attack an emergency?
Not every asthma attack is life threatening, but there are situations that mean you should dial 999 straight away.
If the asthma attack is much worse than normal.
If a child is having difficulty breathing.
If the skin begins to become pale or blue.
If the lips or around the mouth begin to become pale or blue.
Asthma should always be taken seriously, but it doesn't mean that your child can't live a full and happy life and participate in all the usual childhood fun and games. It's essential that you talk openly about the situation with your GP, so that your child can get the right course of treatment for them.
You might also like...