Inhalers and Other Treatments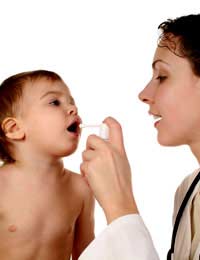 All about Inhalers
Whether you're asthmatic or have an allergy that can trigger an asthma attack it's possible that your doctor might prescribe an inhaler. Here's the low-down on the different types, and some of the other treatment options you might come across.
What are the Types of Inhaler?
Your inhaler might be a preventer or a reliever. In the UK, your blue or grey inhaler is the reliever – also known as a bronchodilator. It acts quickly to open up your airways when you start to feel short of breath. Depending on your own particular condition, this might be because you've exercised vigorously, come into contact with an allergen, such as a cat or dog, or it's hay fever season. The blue ones tend to work within 5-10 minutes and the grey ones within 20 minutes. The effects last for 4-6 hours. You can also get long-acting relievers. They're usually turquoise or green and their effects can last up to 12 hours.
If you find you're using your reliever more than once a day, ask your doctor whether you should also have a brown preventer inhaler. These help to keep your airways calm and open, so that you don't start to get asthma symptoms. These are steroid inhalers and you would normally use them twice a day to reduce the inflammation in your airways. They're usually brown or orange.
If your inhaler is white or purple, it's probably a mixture of this kind of preventing steroid inhaler, with a long-lasting reliever. All this can seem very confusing, so if you are at all unsure what you're taking, or which inhaler you should use when you start to feel breathless, talk to your doctor.
Which Inhaler is Right for me?
You might need to take a preventer, or you might just need a reliever. Your doctor will always put you on the lowest dose inhaler needed to control your asthma, so don't worry if your prescription is different to that of a friend or other family member. A lot depends on what triggers your asthma and whether you are allergic to anything, like pollen or dust mite droppings.
What to do if your Inhaler Doesn't Work
The most common reason is that it's run out. If you suspect that's the case, take out the canister and put it in a glass of water - if it floats, it's empty. Never leave having a full inhaler to chance. Make sure you always have the appropriate inhaler with you and that it's ready to use if you need it.
Another reason your inhaler might not be working is that your present prescription isn't managing your condition. Are you finding it difficult to talk, walk around and eat as usual? If you're finding normal activities a struggle, talk to your doctor and check that you have the right inhaler for your needs.
If you find yourself in an emergency situation, where your inhaler is not doing its job, phone for help. If you're having difficulty talking, despite several doses of your inhaler, call 999 or get someone to drive you to accident and emergency.
What is a Nebuliser?
You might use a nebuliser if you are admitted to hospital with asthmatic symptoms. They give you a big dose of reliever medication in a way you can take in easily even when you're very short of breath. It's unlikely you'll need a nebuliser at home.
Other Treatments
Once again, much depends on why you are having asthma attacks. Antihistamines block histamine, the substance responsible for the symptoms of an allergic reaction. So, if allergy is at the root of your problem, they might prove helpful. They can relieve mild to moderate symptoms, but can cause drowsiness, so they're not necessarily a great choice if you're working, or if you're treating a school-age child.
Immunotherapy for Allergy Sufferers
Immunotherapy is another possible treatment option if your asthma is triggered by an allergy. Much like a vaccination, immunotherapy involves giving shots of the trigger substance to desensitise the sufferer. The treatment starts with daily injections of a tiny amount of the allergen, and builds up to larger amounts.
Maintenance injections are then given over longer and longer gaps, until the sufferer is only getting one injection every month or so. Immunotherapy is not a quick fix solution and it's not right for everyone. It can take up to six months to show real results. Discuss with your family doctor or allergy specialist whether this route might be right for you.
Getting the Right Inhaler
The key to getting the right medication for you is to talk frankly with your doctor. If there are any changes in your symptoms, their frequency, or severity, make sure your GP knows about it. Also, if you're ever unsure about what you should or shouldn't be doing, don't be afraid to ask. You can always talk to your practice nurse, or to a pharmacist, before approaching your doctor if this is easier for you. Lastly, don't forget that everyone's case is different, so don't assume that what's right for your friend, parent or child, will automatically be the right course of treatment for you.
You might also like...