Anaphylactic Shock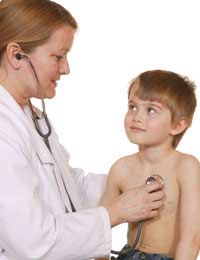 Anaphylaxis or anaphylactic shock is a frightening condition that requires immediate medical attention. Here's what you should know if you, or anyone in your family, has a severe allergy that could result in an anaphylactic reaction.
Anaphylactic shock occurs because the body's immune system goes overboard in its response to an allergen. In children, the most common allergens causing severe allergic reactions are eggs, milk and nuts, whereas in adults shellfish joins the list of likely candidates.
Anaphylaxis can also be caused by an allergic reaction to insect stings, natural latex (rubber) and some drugs, like penicillin. Whatever the cause, once the allergen gets into the blood stream, the immune system releases huge amounts of histamine and other chemicals, which then trigger intense symptoms of allergy.
What Happens During An Anaphylactic Reaction?
The effects of anaphylactic shock come on rapidly. The whole body is affected, usually within just a few minutes of contact with the allergen, although sometimes it can take hours to occur. The person will experience a sudden drop in blood pressure and a narrowing of the airways that makes breathing difficult.
Here are some key symptoms of anaphylactic shock:
Swollen face and lips
Itchy skin
Itchy or swollen tongue
A metallic taste in the mouth
Sore and itchy eyes.
Difficulty breathing
A sudden feeling of panic
Rash
Abdominal pain
Vomiting or diarrhoea.
Faintness
Collapse or unconsciousness
If an insect sting is involved, look out for abnormal swelling beyond the immediate area of the sting.
Treating Someone With Anaphylactic Shock
If you see somebody become suddenly ill or collapse soon after eating food, being bitten by an insect, or taking any medication, you must treat it as a medical emergency. Anaphylaxis can be fatal, so you should always err on the side of caution.
The patient requires an immediate adrenaline injection. The person may be carrying an injection on them – so check if they are unable to tell you where it is.
Meanwhile, get someone to call an ambulance straight away and tell the emergency operator you suspect anaphylaxis. If the ambulance has not arrived, and if there is no improvement within 5-10 minutes, a second injection may be needed, but keep talking to the emergency operator about this and get advice.
Adrenaline raises the blood pressure, reducing swelling and allows the patient to breathe more easily. Recovery normally happens quite quickly once the adrenaline injection has been given.
While giving first aid to someone experiencing anaphylaxis, keep vigilant and watch out in case they stop breathing or their heart has stopped. If this happens, you'll need to perform CPR. Everyone should know how to do this, but if someone in your family, office or circle of friends has a severe allergy, you should certainly take some lessons.
Once adrenaline has been successfully given, the patient will very probably have to go to hospital for 24 hours or so. Doctors might give an antihistamine or corticosteroid injection just in case symptoms return.
Anaphylaxis is a serious condition. If you know anyone who is at risk of a serious allergy, it's best to read up on anaphylaxis now, so that you won't panic if you're ever in a situation where it's happening to you, or where you need to treat somebody else.
Talk to your doctor if you have any concerns, and if you've been advised to carry adrenaline pens with you, make sure you do. Also, be sure to let your friends and family know where you keep your adrenalin, and how to administer it.
You might also like...