Allergic Reactions in Children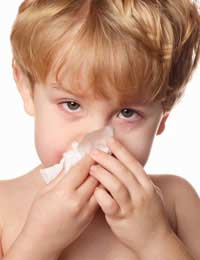 All about Allergies in Children
Along with all the usual childhood illnesses bumps, bruises and scraped knees, some children have to deal with allergies too. Allergic reactions and their causes can vary widely. Contact with an allergen can bring on an asthma attack, diarrhoea, nausea, rashes, runny or stuffy nose and eczema. Every parent's worst fear is an anaphylactic reaction, which can even result in death.
What is an allergy?
When a child has an allergy to something, that substance, known as an allergen, triggers the immune system into releasing antibodies called immunoglobulin E. These cause the body to release histamines, and it's these that are responsible for all the unpleasant symptoms.
Common Allergens in Children
Kids can be allergic to anything, although pollen, dust, pets, foods, latex and synthetic fibres are repeat offenders.
Pollen Allergies and Children
A pollen allergy is also known as hay fever. If you're going to get hay fever, it's likely start in childhood, with the severity of symptoms peaking between the ages of 14 and 24. The histamines produced during an allergic reaction irritate the upper respiratory passages, making them swell and causing symptoms such as sneezing and a runny nose.
How you can help your child to avoid symptoms of hay fever.
Give them a bath and wash their hair after playing outside
Keep your child inside when you mow the lawn or when the pollen count is high
Keep the car sunroof and windows closed while driving
Dust Allergies and Children
It's actually dust mite droppings that are the potential allergen. Look out for symptoms, such as a runny or blocked nose, or watery eyes and try adapting your home to see if minimising dust reduces the problem. Here are some things to try:
Wash bedding frequently in very hot water
Always dust woodwork and floors with damp cloths
Replace carpets with wooden or laminate floors
Ditch the curtains for wooden or metal blinds
Invest in a vacuum cleanser with an allergen filter and use it at least every other day
Pet Allergies and Children
Kids love their pets. Of course, the best way to control allergic reactions is to avoid the allergen, but for many families, the idea of re-housing a treasured cat or dog is unthinkable. It's interesting to note that the allergen that causes pet allergies can hang around in your house for years after the animal leaves, so even if you decide to re-house your precious pet, your child might continue getting symptoms for some time to come. Be responsible. Talk to the RSPCA or other reputable animal rescue centre if you really need to re-home an animal.
Food Allergies and Children
It's children under four, particularly babies, who are most at risk from food allergies. Luckily though, most children will outgrow their allergies as their immune systems develop. So, if your child is allergic to something when they're tiny, you could try again when they're a few years older. The exception to the rule is if your child is allergic to nuts or fish. These allergies can last a lifetime.
There are some 'usual suspects' when it comes to childhood food allergy. Nuts, milk, eggs, fish, tomatoes and citrus fruits are often to blame. Don't forget to read the back of packets. Many foods, particularly dairy, Soya and wheat, can be 'hidden' in veggie burgers, soups, ready meals, cakes, bread and biscuits. Learn the alternative names for your child's allergen and turn yourself into a label detective. For example, milk can hide in processed foods under names like whey and casein.
Latex Allergies and Children
Keep a close eye on your child's toys. Are they getting rashes or a runny nose after playing with a particular dolly or truck? If you suspect a latex allergy, take particular care around balloons, art materials and even stickers – a tricky one, as stickers are frequently given to schoolchildren as rewards. Make sure teachers, play leaders and classroom assistants are aware that stickers are a no-no for your child. As odd as it might sound, you'll need to think about what your child is eating too. Bananas, apples and other fruits that may have had a sticker on their skin should be avoided.
Synthetic Fibre Allergies and Children
Life can be particularly difficult for children who are allergic to their own clothes. In a world that's full of synthetic and chemically processed materials, what should you do if your child seems to have an allergy to man-made fibres?
Itchy skin, rashes and eczema flare-ups could all be due to an allergy to synthetic fibres. Nylon, polyester and acrylic are often to blame. They're found in a lot of kinds of children's clothing – from football kits to nappies. An older child will probably let you know if a particular garment is irritating them. But look out for sore, red skin on little ones who can't tell you what's going on.
Allergic Parents and Allergic Children
As unfair as it seems, if you have an allergy, your child has a higher risk of getting one too. It's a good idea to have a chat with your doctor if you're trying to get pregnant for expert advice about your particular situation.
What if your Child has an Allergy?
If you think your child might have an allergy, start keeping a diary, noting the time and place of any reactions. After a week or two, ask your doctor for advice. Your GP could run tests to establish the exact cause of the allergic reaction, or refer your child to a specialist. Don't dabble with diagnosis, and definitely do not start administering over-the-counter drugs – always get your child checked out by the doctor.
Severe Allergic Reaction
Although most allergies are irritating rather than dangerous, parents should always remember that in rare cases, allergies can cause anaphylactic shock. If this happens, the child will have difficulty breathing, could collapse and even die. If you suspect this type of reaction, don't wait, dial 999 immediately.
Every Child is Different
The main thing to remember is that every child and every allergy is different. So talk to your doctor before jumping to any conclusions about what's causing your child's problems. It might not be an allergy at all! But if an allergy is to blame, you'll need to think creatively about ways to avoid the allergen and keep those nasty allergy attacks at bay.
You might also like...