Could a Child Develop an Allergy After an Infection?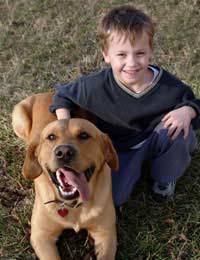 Q.
My grandson who is four was recently diagnosed with severe allergy to dogs. Has always been around dogs without any problem.
Has had 2 ear infections and sinus infection in the last couple of months and that led to consultation with the allergist. He has also been diagnosed as having a slight allergy to peanut butter - he has eaten it since age 1. Is this uncommon? Can the allergies have been brought on by an infection?
(S.W, 23 March 2009)

A.
Hello there and thank-you for your question, childhood conditions such as sinus and ear infections continue to be hot topic and a worry for parents and carers.
As reported in the media in recent years, peanut allergies are on the increase and many experts disagree as to why. Some people believe it is due to the mother ingesting peanuts during pregnancy whilst others believe that it is something that just happens or is developed over time and exposure to the allergen. In most cases, it is impossible to determine the cause and sufferers must learn to be vigilant with determining the ingredients of products before they buy them and to ask whoever has prepared or handled the food if it is not being purchased from a shop or restaurant.
With regard to an allergy being bought on by an infection, it is far more likely that the sinus problems were induced because of an allergy. Sinus and ear infections are caused by exposure to an irritant of some sort which may be a pathogen such as the common cold virus or an allergen such as an allergy to animal hair among others. The irritant caused the airways to produce and expel fluids along with swelling of the tissues which can lead to coughing and sneezing. When these conditions are left untreated, the fluids can accumulate and become infected.
It sounds as though your grandson has been harbouring an allergy (possibly to the dog) for some time and has suffered the infections as a result. Fortunately, these common childhood conditions are not often serious and are cured fairly easily with the use of over the counter preparations and by not being exposed to the allergen any longer.
As you already have a referral to an allergist, it is probably worth writing down all your questions and asking for advice on peanut allergies and the possibility of a dog hair allergy as there may be tests available for your grandson which can help determine the cause of the allergy and also the severity.
Good luck in helping your grandson overcome these problems.
You might also like...