Allergies to Cats and How to Prevent Them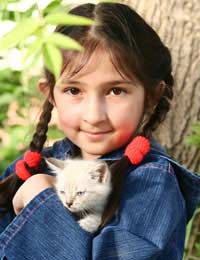 Coping With Cat Allergy
We're a nation of animal-lovers and families up and down the country adore their dogs, cats and bunnies. But for some people, just a few minutes of stroking the cat, or even having the moggy lie on their bed, can result in allergy symptoms that can vary from annoying sneezing to worrying asthma attacks. So, how can you avoid cat allergy symptoms?
Are You Really Allergic To Cat Fur?
You'll hear lots of people say that they're allergic to cat fur. You may have said it yourself. While it is possible to be allergic to fur and to dander – that's skin cells to you and me – most people showing symptoms of cat allergy are actually allergic to the animal's saliva and sweat.
Perhaps that's an even more unpleasant thought! It's a particular protein in cat saliva and sweat that's the usual allergen. The protein, called Fel d 1, is smaller than other common allergens, such as pollen, which causes hayfever, or even mould spores.
Fel d 1 can slip through the defences of the nasal passage and lodge itself deep inside the lungs. Once it's there, it can cause all sorts of symptoms, including triggering an asthma attack.
How Does The Allergen Reach You?
So, you might be wondering how on earth the allergen, which derives from cat saliva or sweat, could possibly find its way into your lungs. The Fel d 1 protein is an airborne allergen that can float around your home with ease.
It all starts when your cat grooms herself, licking her own fur. The protein from the saliva is left on her fur and later, when it's dried, tiny flakes will come away and drift off into the air in your home.
What Are The Main Symptoms Of Cat Allergy?
The symptoms of cat allergy usually appear between fifteen minutes to an hour after exposure to the allergen, although it can take longer.
The symptoms are similar to the symptoms of many other allergies. Red, itchy, or swollen eyes, a runny or blocked nose, sneezing, coughing and wheezing are all typical symptoms.
Ways To Control Cat Allergy Symptoms
The best way to control allergic reactions is to avoid the allergen. But many of us love our cats so much, we can't even think about parting from them, no matter how bad the symptoms are.
It's also interesting to note that the protein allergen can hang around in your house for years after a cat leaves, so even if you re-home your precious pet, you may continue to get symptoms for some time to come.
If you want to remove the allergen from your home to protect yourself from cat allergy, you'll have to clean your carpets, walls, soft furnishings and bedding. In fact, you'll need to clean that house from top to bottom!
Good ventilation is also important. As the allergen floats around in the air, a constant flow of fresh air will reduce the number of allergens lurking in your home.
Treatment Of Cat Allergy
If avoidance tactics don't work, the best thing to do is have a chat with your GP. You might be prescribed antihistamines, which will block the chemicals that cause your allergy symptoms.
Your doctor will also be able to run tests to confirm that it's definitely your cat you're allergic to. Remember, the symptoms are the same as those of many other allergies, like dust mites and hayfever. So talking to your doctor will help you figure out the best course of action for you.
You might also like...